New Students
Please extend a warm welcome to Steffen in the adult class, and his daughter Fiona in the children's class. Train hard and have fun!
Gizmos and Guinea Pigs
Our first movie night for 2010 was a rip roarin' success!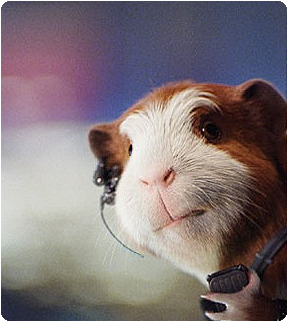 The feature presentation, G-Force, thrilled our younger students. We started the evening with Aikido games, and later feasted on popcorn, pizza, fruit drinks and cookies. (And we know our parents enjoyed the evening off!) Our next movie night is scheduled for Saturday, March 6. See you at the movies!
Kyu Tests
A hearty congratulations to Ryan for passing his 3rd kyu examination. And an equally hearty congratulations to Tatiana, Nyah, and Isabella, for passing their tests in kids class. Sensei is proud of your progress. Our next kyu tests are scheduled for Saturday, February 20, for both adults and children. If you missed the last test, or have now accumulated the hours for your next rank, please let Sensei or Jerry know so we can check on your progress.
Student Referrals
For those who may not know, our school offers a new student promotion. In a nutshell, the promotion can help you save money while also growing the school.
Here's how it works: For every new student you refer, we will credit your tuition by the amount of the new student's first tuition payment, up to your monthly rate. Our promotion applies to both adults and children (including family members), and can be combined with our family and quarterly payment plan discounts.
New Student Instructors
Sensei is pleased to introduce three new student instructors to the school: Jose, Fabian, and Christina. They will teach on a rotating basis during the 7:00 class on Wednesday. Sensei and I are looking forward to taking their classes. One of the strengths of our school is the diverse background of our instructors — we're happy that they have agreed to share their Aikido with us. And now, a brief introduction.

Jose started his martial arts training in 1998, here at our school. One of our dedicated students, he has attended approximately fifteen seminars during this time, both here and abroad. Over the years he has received instruction from several shihan and shidoin, including Peter Bernath Sensei, Donovan Waite Sensei, and Grady Lane Sensei. He has also trained as a guest at Waite Sensei's dojo in Philadelphia. His daughter, Tatiana, attends our children's class.

Fabian first started his martial arts training in 1984, studying Shotokan Karate. He trained in Karate for two years, until 1986, when he began his study of Aikido. He continued training until 1989, when he took a temporary break from the martial arts. He resumed his training in 2002, and until 2004 studied Suenaka-ha Tetsugaku-ho Aikido. In May 2007, he joined our school and since then has been one of our regular students. His daughters, Isabella and Vanessa, train in our children's class.

Christina started her Aikido training in 1994 under Roy Suenaka Sensei. She studied directly under Suenaka Sensei until 2002, and served as an uke in Suenaka Sensei's book, Complete Aikido. In addition to her Aikido training, she studied Hakutsuru Shorin-ryu Katatedo, or "White Crane" Karate, for about one year, as well as Gracie style jiu-jitsu for about six months. In 2002 Christina moved to Jacksonville where, for a while, she continued her Aikido and jiu-jitsu training. Christina joined the school in August 2009.
New Years Cleansing Class
Keeping with tradition, on Saturday, January 2, we held our cleansing class, or misogi. It was truly an exhausting but exhilarating class. Following class, we enjoyed our customary party. We also managed to take a few pictures, for your viewing enjoyment.
Parents Class
On Saturday, March 6, our parents,
with the help of their children, will have the opportunity to experience Aikido first hand. We're turning kids class that day into parents class. For parents, it's a quick and painless way to experience the art through the eyes of their children. And for our kids, it's a chance to show Mom and Dad how much they've learned.

It should be a lot of fun!
Upcoming Seminars
On April 17 and 18, Sand Drift Aikido is hosting a seminar featuring Michael Moreno Sensei.
This April our school is planning on hosting our first seminar for the year. Stay tuned for details.
For up to date information on the multitude of federation seminars scheduled monthly, check out the USAF seminar calendar, also available through the upcoming seminars link on our website.
We welcome your feedback, comments, and questions regarding our newsletter. You can post your thoughts on our blog. We'll do our best to reply.