Message from Sensei
I would like to give a special thanks to Lawrence, Guido, Fabian, Ryan, Sam, and Jerry for their help around the dojo. It makes me feel appreciated having students help out. In particular, any help maintaining the cleanliness of the dojo is very much appreciated. Katie and Gabriel, thanks for your assistance and leadership in kid's class.
Next Kyu Testing
Since Easter is April 3, our next kyu tests, for adults and children, have been moved from April 3 to Saturday, April 10.
New Student
Please extend a warm welcome to Tom, our newest adult student. Tom is a former student of Jason Baran Sensei, chief instructor at Aikido of Central Florida.
2010 Camping Trip
Get your camping gear ready, and don't forget your gi. On April 17, we head out to Gold Head Branch State Park for training, camping, eating, and all around good time. We have quite a group this year. Looks like about twenty-three of us will be going, eleven of which are our aiki-kids.
Aikido Demonstration at Church of Christ
On Saturday, March 27, Sensei and Jerry conducted an Aikido class at the Church of Christ on Bowden Road. The occasion was the Church's singles retreat, and the emphasis was on practical self-defense. Everyone had a great time and we look forward to a return visit next year.
And The Winner is...
Our first raffle was based on training attendance for February. Remember, for every day you attend class, you receive an automatic entry.
And so, without further ado, our first winner, and the recipient of this month's incredible prize, a stylish school t-shirt, is...Gavin, from kids class!
The drawing was audited by Jerry, (during a commercial break), so you can be sure the results are trustworthy. Gavin, please see Sensei to claim your well deserved swag.
Train For Free
Our student promotion is going strong. Feel free to grab a couple of brochures to hand out to your friends and co-workers. Remember, if they sign up, you get free tuition. What could be better?
USAF Summer Camp Scholarship
The USAF is offering a summer camp scholarship. To qualify, you must have kyu rank and have not attended summer camp previously. Interested? Of course you are! See the flyers at the dojo.
Upcoming Seminars
For up to date information on the multitude of federation seminars scheduled monthly, check out the USAF seminar calendar, also available through the upcoming seminars link on our website.
Kid's Movie Night

Wow, what a blast! Our March premier, Mulan II, was well received and great fun to watch. Our kids never ran out of energy, not before, during, or even after the movie ended!
As usual, we supplied the pizza, popcorn, and fruit drinks. As an aside, this was probably the smoothest movie night we've had the pleasure to host. This was due in large part to Katie and her mom Mary, who helped chaperone the kids. In addition, Katie also organized the evening's games, and helped clean up afterwards. (For which Sensei wishes to thank you personally.)
Our next movie night is scheduled for Saturday, May 1. Some of our students have requested the original 1984 movie The Karate Kid. Parents, we are leaving this up to you, whether you believe it to be age appropriate. Please let us know!
Also, since May 1 is the weekend before Mother's Day, we have plans to help our kids with a special gift for Mom.
As always, movie night is a great way to introduce your friends to the dojo. So bring a guest!
Ed Di Marco Sensei
On March 9, we were honored to have Ed Di Marco Sensei, chief instructor of Lake County Aikikai teach our evening classes. Class was dynamic and informative, and included weapons technique. All our students had a wonderful time. Thank you, Sensei!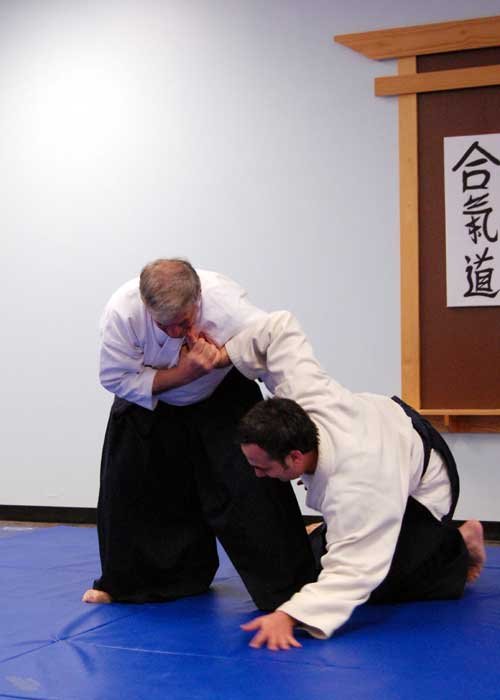 Parents Class - A Great Success!
We had a great turn out for parents class this month. Our kid's were very excited, and patiently helped their parents roll and fall safely. Our parents, meanwhile, did really well, and gave their kids a run for their money during the ukemi relay race. Below, we've posted a few (non-embarassing) photos, suitable for gallery framing.
Seminar at Brevard Aikikai
On March 20, several intrepid Aikidoka from Jacksonville attended a fund raising seminar hosted by Brevard Aikikai. The featured instructors were Peter and Penny Bernath Sensei of Florida Aikikai. During the afternoon, several area instructors taught, including our very own Dee Sensei. For the comprehensive review, head on over to Maggie's post on our blog. We all trained hard and had a wonderful time.
And speaking of Peter Bernath Sensei, we're publishing a video retrospective on our blog, from past seminars at our school. It's amazing stuff.
March Website Links

Penny Bernath Sensei has been doing wonderful things with her educational website. For example, one of the virtual field trips on her site explains to parents the educational benefits of Aikido for children. To see the field trip to Florida Aikikai, go to www.KidVisionVPK.org. Registration is free. Once registered, go to the Virtual Field Trips section and click on the Aikido Dojo visit. There are also other neat things to learn, so what are you waiting for?
A few student website links this month, with more to come in next month's newsletter. First up, Cooking for Bliss, created by Sonia, John's wife. If you're looking for healthy recipes, you should check out her site: http://cookingforbliss.blogspot.com/.
Next we have a site created by Topper, one of our adult students. It's well designed and highlights an important cause - a world free of Multiple Sclerosis. Please check it out: www.150miles4ms.us/.

Lastly we have a thoughtful blog by William, another adult student: http://november-in-my-soul.blogspot.com/.

We welcome your feedback, comments, and questions regarding our newsletter. You can post your thoughts on our blog. We'll do our best to reply.