Kyu Promotions
Congratulations to Katie for passing her ninth kyu test in children's class. Also, kudos to Jorge, Jose, and Garica for passing sixth kyu, and Jose for passing second kyu. Great job! Our next children's test is scheduled for Saturday, June 26. Our next adult test is Saturday, June 19.
And The Winner is...
Our May raffle winner is...Nyah! Remember, for every class a student attends, we submit an entry on your behalf in our monthly raffle. Nyah, please see Sensei to claim your awesome prize.
Morning Class Begins
We will have our first morning class on Monday, June 7 at 7 a.m. If you have previously expressed an interest in morning class, please make sure to mark your calendar. In addition, to coordinate schedules, we will circulate an email among our moming students, so we can keep each other up to date. Check your email in the coming days.
2010 Summer Seminar

On Saturday, June 19, we will host Richard Wagener Sensei, chief instructor of Palm Beach Aikikai, for our summer seminar. Please note that we will be placing a sign-up sheet at the dojo. If you plan on attending, we would appreciate it if you would pay early, as this helps with the logistics on our end.
The cost for the seminar is $55.00, which includes a full day of instruction as well as dinner and a party at the dojo.
Kid's Movie Night
We had a good turn out for April's movie night. (We hope our Mom's liked
their Mother's Day gift!) Our next movie night is scheduled for Saturday, June 12, where we will premier The Incredibles.

Also, since June 12 is the weekend before Father's Day, we have plans to help our kids with a special gift for Dad. And remember, movie night is a great way to introduce your friends to the dojo. Guests are always welcome. In addition to popcorn, we will be serving pizza and fruit drinks. And of course we'll organize some fun games. Please make sure to let Sensei know if you or your child can attend.
A Message From Lawrence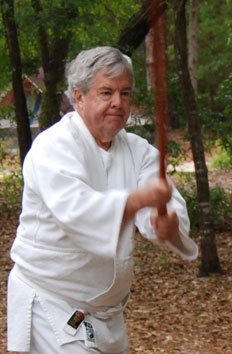 Fellow Aikidoist's -
I've headed back to my home in New Hampshire for the summer and I will return to practice in the fall. I wanted to officially thank all of you for practicing with me, putting up with my idiosyncrasies, and most of all being friendly, kind and patient. It's a great compliment to all the dojo's teachers, especially Sensei Dee, for the community that you all have created.
In Gassho,
Lawrence (lawrenceb@wildblue.net)

Lawrence, I'm sure I speak for all when I say we have enjoyed training with you. We look forward to your return in the fall. Have a safe and enjoyable summer.
We welcome your feedback, comments, and questions regarding our newsletter. You can post your thoughts on our blog. We'll do our best to reply.