New Students
Please join me in welcoming back Herve and PJ. And let's also extend a warm welcome to Kyle, in our adult class, and to Luc, in our children's class.
And The Winner is...
Our August raffle winner is...Ryan! Remember, for every class a student attends, we submit an entry on your behalf in our monthly raffle.
Kyu Testing
Congratulations to Jericho on his 6th kyu promotion and to Kevin for passing 3rd kyu. In our children's class, congrats to Vanessa and Gavin for their promotion to yellow belt / black stripe. Our next test will be Saturday, October 30th.
Nobu Arakawa Seminar
On Sunday, October 3, Brevard Aikikai will host a benefit seminar for Nobu Arakawa Sensei. Our students may be organizing a carpool, so let us know if you're interested in attending.
Train For Free
Help us grow the school! When you refer a student, you train free for the month. Our student promotion also applies to family members, and can be combined with our family and quarterly discounts.
Kid's Movie Night
This month we held our largest movie night to date. Fifteen of our youngest students joined us for an oldie but goodie, Swiss Family Robinson. We enjoyed pizza, fruit drinks, and popcorn, and played a neat game of Silly Bandz charades. Special thanks to Ryan and Maggie for helping us chaperone.
Which brings us to our next event...
Our Annual Halloween Party!
A personal favorite of mine. Who can forget last year's blowout event? Nearly three hundred orange and black balloons, halloween lights, cobwebs from ceiling to floor...And I'm not even talking about the music, games, and awesome costume contest. And in case you're wondering: We have even cooler plans this year.
So all you astronauts, princesses, and ghosts, get ready for a fun evening at the dojo.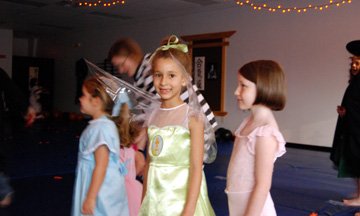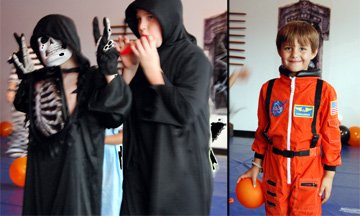 Grady Lane Sensei in Jacksonville

What a fantastic day. On Saturday, September 25, Lane Sensei taught our morning classes. We worked on connection, and practiced kneeling and free-style techniques, including jo-tori.
On behalf of the dojo, thank you again Sensei for making the trip to Jacksonville and sharing your Aikido with us. We always enjoy learning from you and training with your students.
We welcome your feedback, comments, and questions regarding our newsletter. You can post your thoughts on our blog. You can also follow us on Twitter, or join our Facebook group.