New Students
Please join me in welcoming Broderick, Thomas, Janet, and Marlo to our adult classes. Train hard and have fun!
Camping Trip
The weekend of our camping trip is rapidly approaching. So far, we have 35 students and family members who are confirmed attendees.
Our adventure this year is scheduled for Saturday, March 19 at Fort Clinch State Park. Are you ready for campfire stories, hearty food, and energetic Aikido? Well, how about a black powder artillery demonstration at Fort Clinch? I thought so!
We'll start sending out food details in the coming weeks, so keep an eye on your email.
Next Movie Night
Our next movie night is scheduled for Saturday, April 9. Our kids this month had a blast watching Cats & Dogs: The Revenge of Kitty Galore. What movie should we pick next?
Upcoming Seminars
On the weekend of March 25, Yamada Sensei will teach at the Aikido Center of Atlanta.

Heads up! In early May we will be scheduling a seminar in our dojo. The featured instructor will be announced soon. Please make plans to be there.

Train For Free
Help us grow the school! When you refer a student, you train free for the month. Our student promotion also applies to family members, and can be combined with our family and quarterly discounts.
Kyu Tests
Congratulations to Luc and Keanna on their promotion to yellow belt black stripe, and to Isabella on her promotion to green belt black stripe. And in our adult class, congratulations to Justin, Kyle, and Jerry for passing 6th kyu, Lawrence for passing 5th kyu, Herve for passing 3rd kyu, and Fabian for passing 2nd kyu. Everyone gave a great test. Also, a warm thank you to everyone who came and supported their fellow students. And of course our deep gratitude to Grady Lane Sensei for his excellent lesson and his ongoing support of our dojo.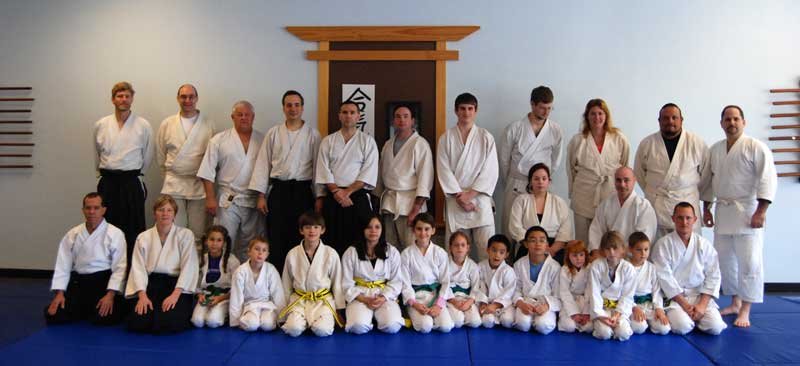 Our next kyu testing is scheduled for Saturday, May 14.
Rank Board Update
Once again, we want to thank Kevin for his help with our rank board. (Our thanks also to Herve and Buck for staining the wood and completing the lettering). Below are a few pictures Jerry took of the Maestro, working in his fully appointed above ground workshop.
(Please take note of the correct hanmi Kevin has taken. You can never be too careful when working with a drill press.)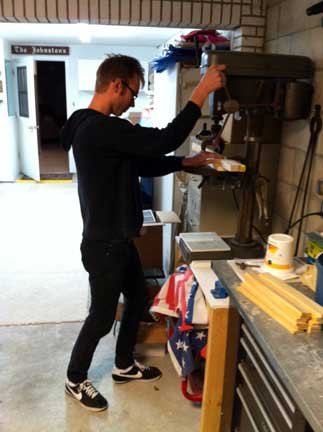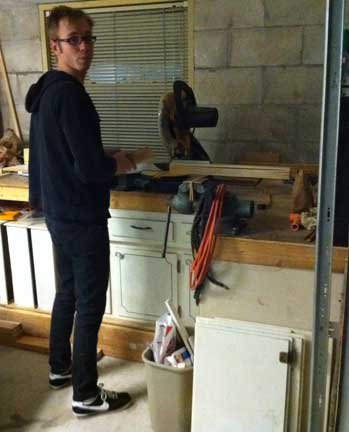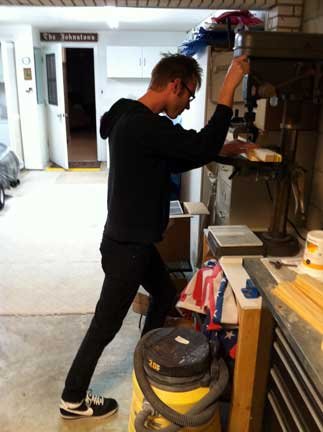 Claire Keller Seminar
Seven dedicated students journeyed to Brevard Aikikai to participate in an excellent seminar with Claire Keller Sensei, an instructor at New York Aikikai. From my perspective, it was one of the best seminars I've been to in several years. And given that we all are still talking about it, it's safe to say that our students feel the same way. Thank you Sensei!
We welcome your feedback, comments, and questions regarding our newsletter. You can post your thoughts on our blog. You can also follow us on Twitter, or join our Facebook group.