New Students
Please welcome our newest students, Bryce, Brantley and Brynn, in our children class, and John, in our adult class.
Student Testing
Our next test date for adults is Saturday, September 10th. (That's right, you'll be testing before Bernath Sensei, so you better look sharp!) For our kids, our next test date is Saturday, September 17th.

Class Schedule Change
Just a reminder that our adult class schedule has changed. Each class is now one and half hours, beginning as usual at 6 p.m. during the week, and 10 a.m. on Saturday.
We'll have open mat after our classes for those who want additional practice.
Train For Free
Help us grow the school! When you refer a student, you train free for the month.
Our student promotion applies to family members as well as friends, and can be combined with our family and quarterly discounts.
Peter Bernath Seminar, September 10th

On Saturday, September 10, Peter Bernath Sensei of Florida Aikikai will lead classes at the dojo, for our 2011 Fall Seminar. Bernath Sensei is an Aikikai Shihan, or master instructor. This is a great opportunity to learn from one of the highest ranked Aikidoka in the United States.
We expect our students to make plans to attend this seminar. As Sensei always says, attending seminars is one of the most productive ways to improve your Aikido. In addition, attending seminars taught by our Shihans is a necessity if you wish to test for black belt at some point. And lastly, we know this seminar will be a lot of fun!
The cost for the day will be $50, which includes fruit and snacks between classes. See you on the mat!

Our Best Wishes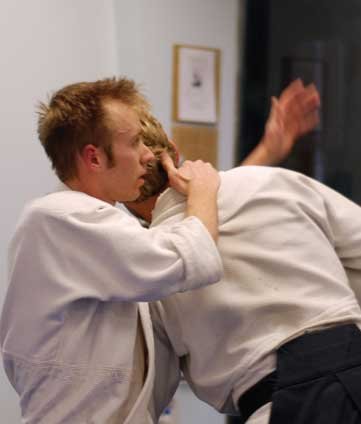 We want to wish Justin the best as he begins his next big adventure. We know he'll do great in college and look forward to training with him again as time permits.
Sensei and I also want to wish Kevin all the best as he too begins his new journey in Savannah. It really has been our privilege to get to know Kevin on and off the mat. He's a good friend, and a great person. Kevin will continue to train in Savannah at our sister USAF dojo, the Aikido Center of Savannah. He will be training under Alan Gay Sensei, who is a student of George Kennedy Shihan. (But we found him first!) Kevin promises not to be a stranger, and will train with us when he visits Jacksonville.
To both Justin and Kevin - We will miss both of you, and hope to see you again on and off the mat.
Special Thanks

Sensei would like to give a special thanks to Jerry, Maggie, Ryan, Rey, Keanna, Jose, Tatiana, Leo, John, Jason, Herve, and Luc. They trained hard on Saturday (well, most of them!) and then helped with our annual dojo cleaning. For those who don't know what that means, we removed the mats, scrubbed and vacuumed the school, and carefully put everything back in place. It took about an hour and a half, and was well worth it. Thank you!

Other Seminars
On October 14 and 15, Donovan Waite Sensei will be at Water Oak Aikikai. This is a great dojo which Buck recently visited. Also, beginning on November 11, Florida Aikikai is hosting our annual Winter Camp. This three day seminar is the biggest Aikido seminar held in the South, and hosts the highest ranked Aikido instructors in the country. It is jam packed with Aikidoka who visit from all over the world. Multiple classes are held throughout the day, simultaneously. It's also in Fort Lauderdale, so what's not to like?
We welcome your feedback, comments, and questions regarding our newsletter. You can post your thoughts on our blog. You can also follow us on Twitter, or visit our Facebook page.