Student Stuff
Our next test date for adults and children is November 19. Good luck!
Upcoming Seminars
On November 11, Florida Aikikai will host our annual Winter Camp. Five of our students have already committed to the weekend. It's a huge event with several hundred Aikidoka from across the United States attending. You really ought to go.
Christmas Party
Yes, we wanted to be the first to talk Christmas this year. And we're still eating our Halloween candy.
Our Christmas social is an informal get together for adults. We'll have heavy appetizers, libations, and good conversation. We generally schedule this on a Friday if you just want to stop by after work.
This year we've scheduled our soiree for Friday, December 2nd. And when you go to the mall and hear Christmas tunes, and then realize it's not even Thanksgiving, just remember: We did it first!
Ho, ho, ho!
Train For Free
Help us grow the school! When you refer a student, you train free for the month.
Our student promotion applies to family members as well as friends, and can be combined with our family and quarterly discounts.
Dojo Visitors
Grady Lane Sensei and Maury paid us a visit this month. We had a nice turn out for Sensei's class and for lunch afterwards. Also, Justin and Kevin dropped by last week, for training and test preparation. (We may be seeing Justin more regularly, now that he's got that college thing figured out).
Halloween Party a Ghostly Good Time
What a great party! Over twenty of our youngest students enjoyed candy, games, and a little Aikido. Thanks to our parents who helped inflate more than 200 balloons, as well as decorate the dojo with cobwebs, pumpkins, and spooky lights. A little trivia: did you know that Josh Brolin starred in our Halloween movie, The Goonies? Yep, didn't think so.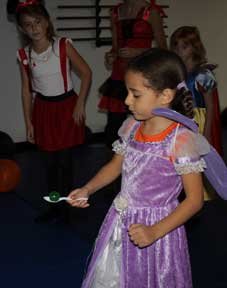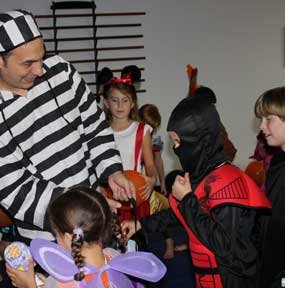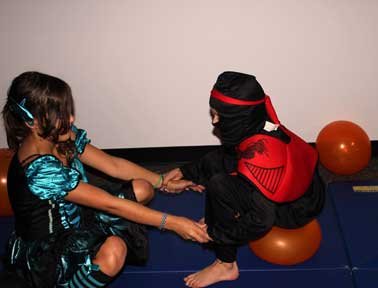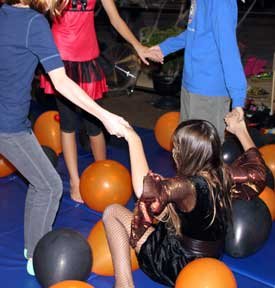 Our Absolutely Final Movie Night for 2011
Yes, we decided to throw one last bash for our kids. Our final movie night will take place on Saturday, December 3rd. As always we'll catch a flick, enjoy popcorn and pizza, and sit quietly* throughout the movie. Hope you can make it!
*Please, for my health.
We welcome your feedback, comments, and questions regarding our newsletter. You can post your thoughts on our blog. You can also follow us on Twitter, or visit our Facebook page.