A Dojo Milestone
This month we reached a milestone in our student base. With this month's new arrivals, we now have an active student base of over 50 students. By my reckoning, this makes us the largest Aikido dojo in northeast Florida.
First, however, let's take a moment to welcome our new students. In the adult class, please welcome Brett, Mike, Alonzo and Steve. And in our children's class, a heartfelt welcome to Ben, Ana and Carolina.
And because we can never say this enough: Thank you! Our success is due entirely to you, our students.
Student Referrals
For our new arrivals, you may be interested in learning about our new student promotion. In a nutshell, the promotion can help you save money while also growing the school.
Here's how it works: For every new student you refer, we will credit your tuition by the amount of the new student's first tuition payment, up to your monthly rate. Our promotion applies to both adults and children (including family members), and can be combined with our family and quarterly payment plan discounts.
Dojo Blog and Calendar
As a reminder, the school provides two ways to communicate with your fellow students online. First is our dojo weblog, Learning to be Silent. Feel free to comment on existing topics as well as post your own articles. In other words, if you have an Aikido related topic you've been itchin' to publish online, simply email me, and we'll talk.
Our second tool is our student calendar, which we introduced in our May 2009 newsletter. You can find the calendar on our password protected login page. The calendar is intended for student to student communication, for topics suited to a calendar type format.
Mandarin Yoga
As you may know, Ana has returned from her sojourn in the Ukraine, and is restarting her Yoga classes. She is beginning her classes at 4:45 p.m., and will finish at 5:45 p.m., which should give our students plenty of time to prepare for class. In the meantime, she asks that if you arrive while Yoga is in session, that you wait outside until her class ends.
Sensei Promoted to Sandan
Earlier this month, Sensei received a welcome surprise from Laura Pavlick, Director of Operations of the United States Aikido Federation and chief instructor of Litchfield Aikikai. Dee was informed that her instructor, Yamada Sensei, had recommended her for promotion to Sandan, or third degree black belt. Dee, of course, is honored and thrilled. Sandan is customarily a tested rank, so to be recommended, (a year before she planned to test), is extremely gratifying. Congratulations, Sensei!
Halloween Party a Ghoulish Affair
On Friday, October 30, on the eve of All Hallows Eve, our school hosted a fun Halloween
party for our children's class. Who knew that our adult students would have such a great time as well? All told, about 35 of our students, family and guests, (including about 20 of our younger goblins students), joined us for candy, cake, games, and candy. Did I mention candy? Let me be specific: gummies, chocolates, candied apples, malted candy, flan, a giant cupcake cake, licorice, lollipops, sour candies, brownies and (believe me) much more.
Sensei organized a costume contest, as well as various Halloween games that somehow involved our foam bokken, and popping balloons for prizes. Oh yeah, we also watched Monsters, Inc., enjoyed some delicious popcorn, feasted on pizza, and danced to some silly Halloween tunes. Whew!
None of this would have been possible without the help and support of our parents. So, thanks to Mary and Katie for their wonderful decorations, all the parents who contributed food, and to the students who helped inflate the 250 orange and black balloons we spread about the dojo.
Most importantly, however, I'd like to thank our kids for attending, and of course Dee, for her enthusiasm, organization, and supreme patience.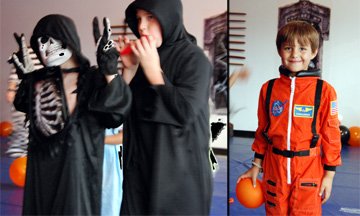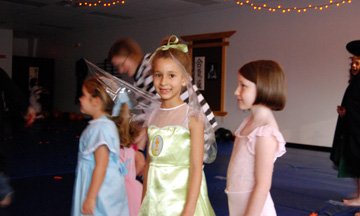 Upcoming Seminars
On November 6, Florida Aikikai will host our annual winter camp, taught by Yamada Shihan, Sugano Shihan, and the shihan of the United States Aikido Federation technical committee.
On December 5, Brevard Aikikai is hosting a Christmas seminar. Lane Sensei will teach, along with guest instructors Richard Wagener of Palm Beach Aikikai, Eliot Rifkin of Miami Aikikai, and our very own Dee Seabolt.
And to stay up to date with the multitude of USAF seminars scheduled monthly, check out the USAF calendar of events, also available through our website.